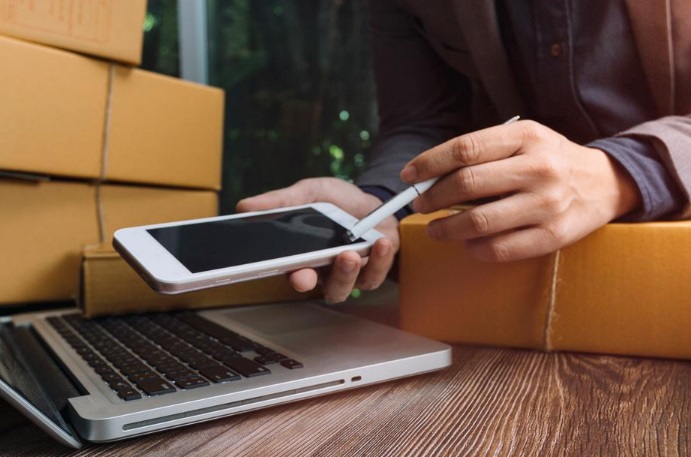 Cluttered mailrooms are a usual scene in most offices. Workplaces that don't have separate mailrooms have it worse. Packages and deliveries pile up at the front desk or in a storage room nearby. 
This is because most offices still follow traditional methods of mailroom management. Every time a mail arrives, a facility or front desk personnel has to receive each delivery item. 
The person has to ensure the item is handed over to the recipient - by manually tracking and notifying the employee. He also has to keep a record of the arrival of the items and store the deliveries until they're handed over.
The entire process of managing day-to-day mail and package deliveries at offices is time-consuming and cumbersome yet unavoidable. Office resources can definitely be put to better use than this. Only if they used a digital mailroom management system. 
What Is Mailroom Management?
Mailroom management is a process of managing mail deliveries to offices.
All offices have to manage deliveries to the workplace through a process of receiving mail items and handing them over to their rightful owners.
In small offices with less staff, where delivery items are few, a single person may be able to handle it. Mostly, the person at the front desk takes care of such deliveries. However, in medium to large offices, a manual process of mailroom management is quite time-consuming and frustrating.
Mailroom management includes workflows such as informing the arrival of the items to the recipients or owners, recording and updating information such as time of arrival and final delivery to the owner.
Enter Digital Mailroom Management System! 
A cloud and mobile based mailroom management system automates the lengthy work processes of mailroom management. From delivery to handover, everything happens on the application without any manual intervention. This is one of the top advantages of a digital mailroom management.
Time saving is another important advantage of a digital mailroom management system. There are many other benefits. 
Let's discuss a few of the top features and advantages of a mailroom management system.
Workflow Automation
The workflows involved in managing mails and deliveries are automated in a mailroom management system. Manual processes are converted into a sophisticated, digitized workflow using technology such as cloud and mobile. For example, with a mailroom management system, no one has to manually call the recipient/owner of the delivery nor record the same.   
Saves Time
Managing a mailroom basically requires following a few processes. The same processes when done digitally, i.e. by a mailroom management system, saves time for the team and managers as well as offers the employees a better experience. The workflow on the application is designed with features that automatically tracks, notifies, and records the same info that was done manually.
No Errors Or Misplaced Items 
Misplaced or lost items are common problems in manual mailroom processes. In a digitized system, from item received to finally handed over to the owner, all records are automatically recorded and saved. There is no scope for error and old records and entries can be retrieved if needed.
Automatic Reminders And Notifications 
The owner of a delivery need not be tracked down by the workplace manager. A mailroom management system identifies the recipients and matches them. It then automatically notifies the recipient, who can opt to collect the delivery at a convenient time. All actions are recorded on the system. Timely reminders also prevent piling up of delivery items. Additional features to enable discard unwanted mails and items also ease the mailroom management process.  
Mailroom Logs 
A digital mailroom management system scores high on convenience and accountability. Updates and syncs happen automatically. Mail delivery records are digitally saved and can be retrieved when needed. Delivery status can be quickly checked.
These are just a few of the important features of a digital, mobile-based mailroom management system. The sole purpose of this application - why offices need it - is to relieve your teams of unnecessary and low-value work and offer a hassle-free experience to your employees.
Not to mention that by using this system, you can cut down on the mailroom clutter in your office space to a large extent.