A Smart Meeting Room Management System
Manage work spaces on the go. View types of rooms, facilities available in each room or hall, room status, and other details in real-time on your phone, system, or a display board. Alllows anyone in the team to book a room .
Forget irksome, time-consuming calls to facility.
Anyone in the team can book a meeting room using VersionX meeting room management software.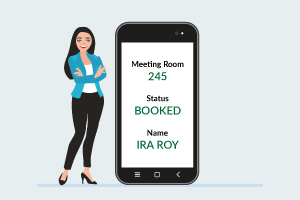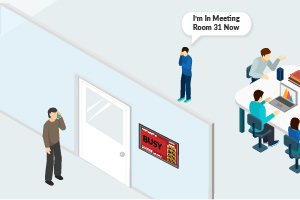 No long-winding processes!
With VersionX meeting room management system, you can book meeting and conference rooms on the go.
Real-Time Status Display.
The real-time status and facilities of all rooms are viewable.
VersionX meeting room management system displays the room details on the phone, on a system, or on a led display screen.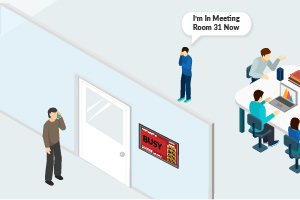 Features of Meeting Room Booking System

VersionX's meeting room booking software helps you book spaces anytime, anywhere.

Display boards outside meeting and other rooms show the status of conference rooms.

Our solution integrates well with other software such as visitor & staff management.

The conference room solution shows a countdown of the time left for a meeting to end.

With VersionX conference room booking system, any authorized person can quickly schedule meetings.

We're on cloud, therefore, you can book your meeting room from any device.

Receive alerts and notifications when you want to, say, when a space is available for booking.

The system shows all related information such as room info, time, booking person, etc.

All our solutions comply with the highest standards of security.
Why VersionX Meeting Room Management Software?

It's a simple application that can also be tailored to unique needs.


Our meeting room management software can be easily integrated with our visitor solutions.

VersionX meeting room booking management system is an intelligent yet simple solution.


Access meeting room details anytime, anywhere. Book rooms on the go.

What is a meeting room management system?
A meeting room management system helps organizations efficiently manage work space usage. It is also known as conference room booking software. It helps work teams schedule or book a meeting room in real-time. You can also get all the details of any space or meeting room as and when you need to. For example, status of conference rooms, when will they be available and at what time, who booked the room, and so on.
How helpful is a meeting room management software?
A meeting room management software helps organizations focus on their core work by automating their non-core work like managing work spaces. Teams can save time and effort when they book meeting rooms in real-time without any hassle. The solution helps organizations optimize the use of work spaces, ensuring they don't remain unused when there's a need due to lack of information.    
Is VersionX meeting room booking system an application?
It is a mobile application.
Meeting room info such as booked, available, time details, etc. is viewable in real-time on display boards or any screen as needed.
Who uses VersionX meeting room booking software?
Any organization, or the team or staff it authorizes, can use VersionX meeting room booking software. 
In which locations do you have presence?
We operate pan India and have clients in major states and cities like Tamil Nadu, Delhi, Bangalore, Chennai, Hyderabad, Mumbai, Pune, Noida, Gurugram, Ghaziabad, etc.