An AI Powered Visitor Management System
Fully automated & easy to use. Businesses can customize their visitors' experience. Guests can use their personal mobiles, QR, & face recognition. It also Integrates with Access Control.
Versatile and customizable, VersionX's EntryPoint visitor management system is QR code and facial recognition-based. Guests can use their personal mobiles to make entries. It is touchless and makes your visitor lobby COVID safe and hygenic. You can opt for a visitor self-service kiosk to make your reception operations hassle-free.
Our visitor management system easily integrates with access control hardware and parking systems. You can manage multiple entry points & locations from a central dashboard and get real-time visitor reports and analytics. Highly customizable, VersionX visitor software is used across corporate, factory, schools, residential apartments, hospitals, hotels, events, business, office, and many more businesses.
No OTP charges - 100% visitor authentication
A unique offering!
Most visitor management and security systems require the use of OTP, involving SMS charges for visitor authentication.
EntryPoint visitor management system authenticates visitors and guests - with No OTP Charges.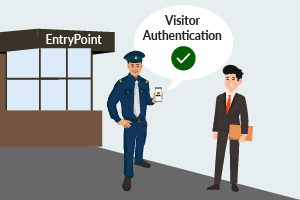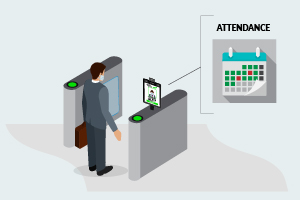 A face-recognition based visitor management system
Built for all types and sizes of businesses. 
Our facial recognition system based visitor app is suitable for small as well as large organizations.
The face recognition feature is inbuilt in our visitor management system and can be customised as per your need. It can even identify masks on a visitor. This helps enforce safety and hygiene regulations at your workplace.
Guests too can check-in in a safe and secure manner. Make your reception area COVID safe and offer your guests a warm welcome at the same time.
Integrates with access control & parking management system
A highly advanced system.
Our visitor management system is not a standalone software. It can be used in combination with all types of access control hardware.
EntryPoint Visitor Management System easily integrates with all access control system such as elevators, doors, boom barriers, turnstiles, and so on.
Our visitor software can also solve all your parking management needs. It can not only authenticate and track visitors but also staff and vehicles.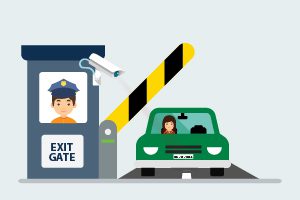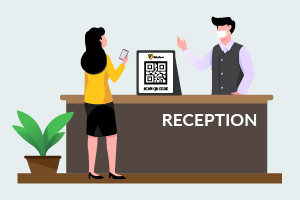 QR-code-based epasses for touchless visitor check-in
ePasses - the need of the hour!
Make your visitor processes contactless and your reception lobby pandemic-free.
With EntryPoint visitor management system, you can offer all visitors a contactless entry via epasses. All they need is a personal mobile phone.
QR code entries give visitors a secure, hassle-free experience, while keeping your reception area COVID safe.
Custom visitor slips in ePass format or self-generated by the printer
It's completely touchless.
As we already mentioned!
VersionX visitor management software instantly prints visitor badges. The printer self-generates a visitor slip - it detaches on its own from the printer as soon as the entry is made in the visitor app.
It's up to you what you want the slip to print - QR code, visitor photo and other details. You can also get your company logo printed - think branding. The choice is yours.
You don't have to worry about visitor badges and ID cards anymore.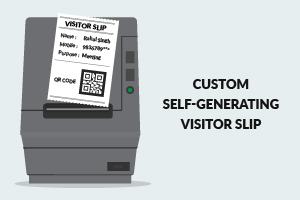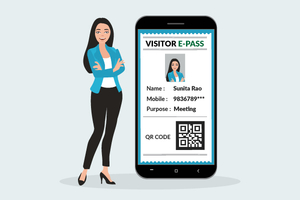 Pre-Entry epass for seamless entry of guests
Make your guests happy.
Pre-entry epasses provide your guests a seamless entry. It saves time and effort of both guests and the security / reception operators.
The host creates the visitor epasses for the guest on the EntryPoint visitor app. The guest just needs to show the pass at the entry. And the host gets notified on his/her phone!
Admins and designated authorities can create epasses for multiple guests at one go.
What's Unique About Our Visitor Management System
It makes your visitor registration process entirely touchless.
Our visitor software authenticates visitors without OTP, captures photo & visitor details; quick check-in for repeat visitors
Passes are auto-generated - paper pass, e-pass, QR code-based, with pre-defined but custom validity
Our visitor registration system is also a facial recognition system - that you can opt for
The visitor software integrates fully with access control system  that enhances manpower efficiency
Hosts can create pre-entry for their guests and the admin can create epasses for bulk invites.
You can efficiently segregate visitors into different categories like guests, staff, vendors, laborers, parents of students, etc.
Block unwanted visitors, raise alarms, verify anyone in the premises, issue emergency messages to everyone inside the premises
Offer selective access to sensitive/restricted areas/floors in the building or premises
Customize fields to capture data based on your process flows and get reports directly in your email on a periodic basis
The system works for single and multiple locations. In fact, larger the setup, easier it is for the management and security/admin team to centrally monitor all their locations.
Clients: Large businesses use VersionX visitor management software as a centralized system to record visitor info in their multiple office locations. Our VMS is also used by small & medium businesses as it is budget & user friendly. (View clients)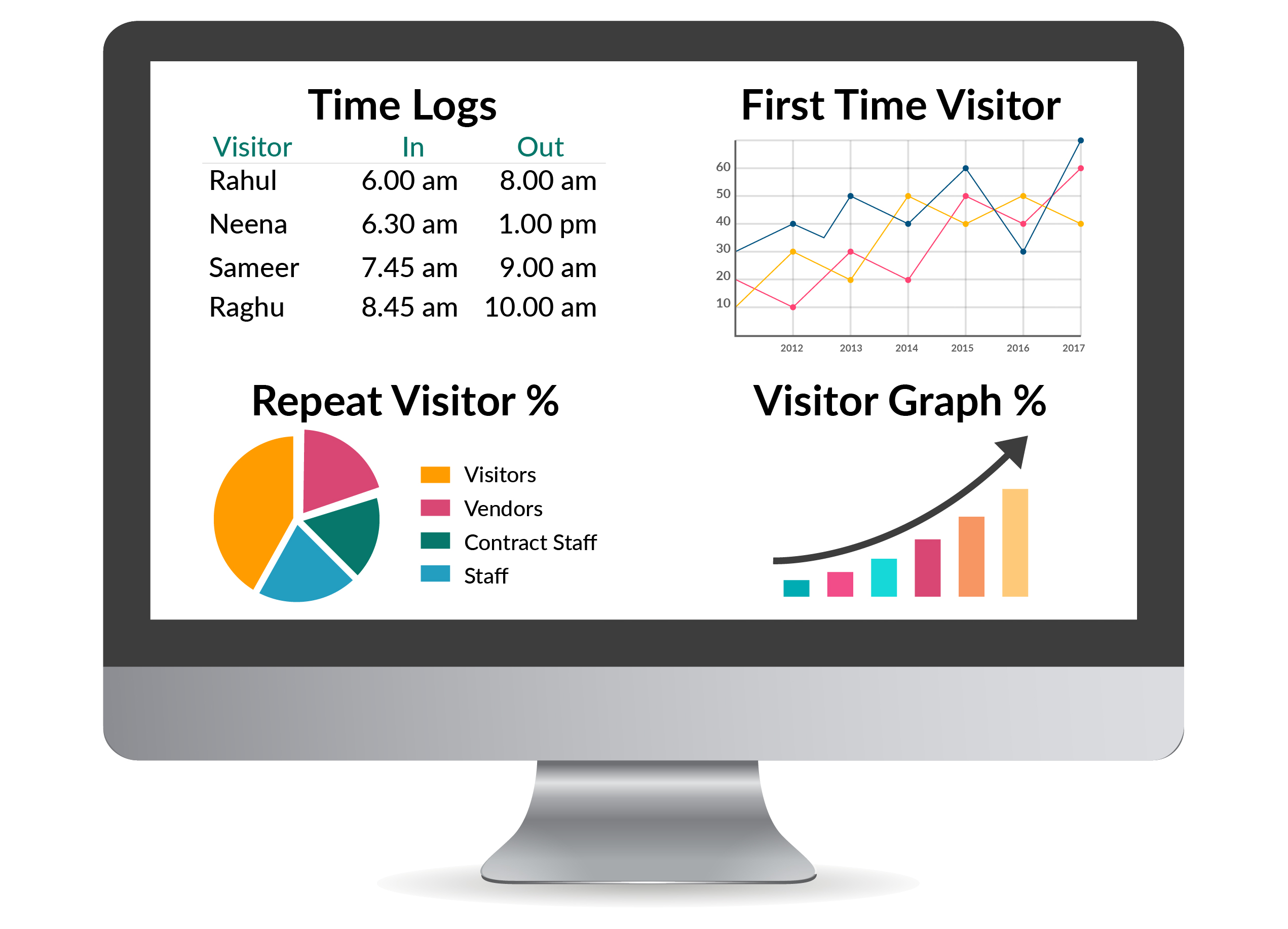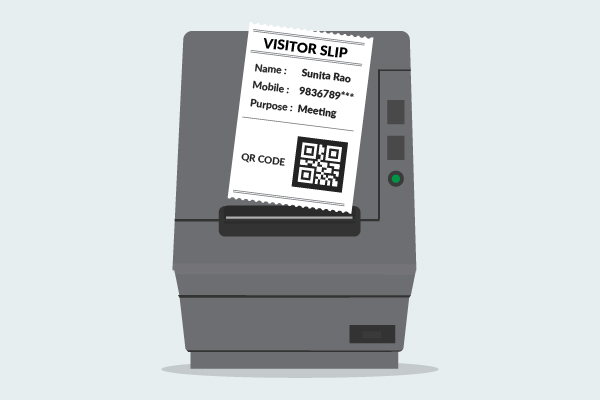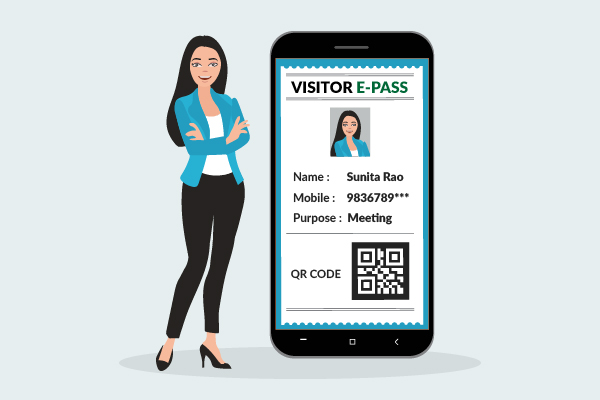 A Variety Of Instant Visitor Gate Passes For Quick Visitor Service & Efficient Operation
EntryPoint Visitor Management System is an advanced software that works in a range of visitor scenarios. It generates instant multi-purpose passes as per different visitor requirements.
You can opt for paper passes, epasses, or both.
Here are a few types of passes for different needs:
One-Time Entry Visitor Passes
EntryPoint visitor management system offers complete authentication of one-time visitors within seconds.
Visitors are automatically authenticated and their details auto-captured in the VMS.
The visitor's name, photo, and other details - that can be customized - are entered only for the first time. This step is not necessary when the visitor makes the next visits.
As soon as the data is saved, a unique visitor slip with a QR code is auto-generated.
A Visitor Pass With Fixed Validity 
This limited validity visitor pass is for guests, workers, or vendors who might visit or reside in your premises for a definite time period.
The validity period can be fixed by the admin and reflects on the pass.
These passes are generated only once and can be used by the person to make multiple entries and exits within the dates fixed in the visitor system.
Pre-Entry ePasses
Useful for all business or residential premises.
A pre-entry epass provides guests a seamless entry.
The host can easily create these visitor epasses on the EntryPoint VMS.
These visitor passes save time and effort of both guest and security / reception operators at the time of entry.
These epasses are essential to offer your guests a superb experience while ensuring foolproof premises security at the same time.
EntryPoint VMS - More Than Managing Entries!
VersionX's EntryPoint visitor registration system can do much more than visitor authentication and digital registration.
You can generate instant QR code-based gate passes, create appointments, manage attendance, and even integrate with access control systems and hardware like boom barriers, turnstiles, etc. You can view visitor data in a central dashboard anytime, anywhere.
Check out how VersionX Visitor Management System works in these videos
Features of Our Visitor Management Solution
We have helped organisations in 1000+ locations across India eliminate visitor registers & digitize their operations.

All visitor operations in EntryPoint VMS takes place in real-time. Get notifications & alerts about visitor entry & exit, appointments, staff attendance, access to on-the-ground issues.


Opt for instant self-generating passes for different scenarios. QR code based, paper visitor (can be used as badges), ePass, or access card solutions. Custom validity for each type of pass can be pre-set in the visitor dashboard.


EntryPoint Visitor Management Software is cloud based. But it works even when the system is offline without hindering any visitor operation. All data automatically syncs on re-connection.


Our visitor software offers high efficiency with maximum security. You can manage multiple gates and locations from a single system. Your admin or security team can broadcast emergency messages and alerts to all your employees or residents when needed.

Access Control Integration

EntryPoint VMS is an advanced web based visitor management system that seamlessly integrates with any type of access control system and hardware such as boom barriers, turnstiles, flap gates, doors, and elevators. This positions us well to also manage your parking system.


The visitor dashboard is where the authorized admin takes most operations related actions. The brain of the system, it provides all visitor related data - reports & trends anytime, anywhere. Helps in quick and effective decision making. 

Our visitor software is foolproof. We take data privacy seriously and guarantee that all data is safe and secure with us.

Manage Multiple Locations

Manage multiple branches and locations from a central dashboard, with customizable dashboard for each branch and workflows.

Our visitor management system easily integrates with Google Calendar to help accomplish various tasks with ease & flexibility.

Our visitor management system records the time logs of all staff - permanent, temporary, or contractual - and also provides attendance reports.


A visitor self-kiosk helps visitors self check-in. This makes both visitors and reception independent and hassle free without compromising security.
Violation Monitoring & Alerts

Keep your premises secure by avoiding misuse of premises, visitor overstay, & unnecessary loitering. View violation data in dashboard.


Create approval based workflow with just a change in the settings - you can customize it as per need.
Configurable Access Rights

Enable or disable access rights at multiple levels and locations as per process requirements.
Bulk Invites for Pre-Entry

Create bulk invites for multiple guests at one go and give them a seamless entry.
Make Your Office COVID Ready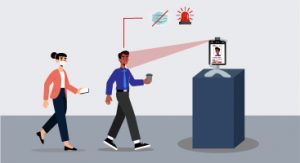 EntryPoint VMS can scan mask and temperature in visitors. Accordingly, it can restrict visitor entry and raise alarms in real-time.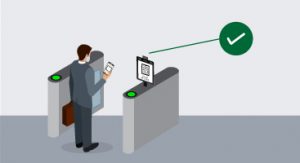 Our web-based visitor management system seamlessly integrates with any type of access control system. Access such as lifts, doors, turnstiles can be unlocked with mobile.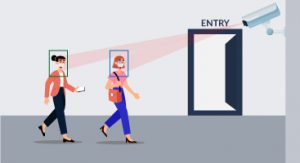 EntryPoint Visitor Management Software uses facial recognition technology. This makes it a touchless visitor management system.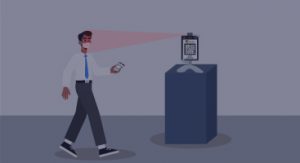 Visitor entries in EntryPoint VMS can be enabled with QR code. Eliminate all manual or touch-based entries and registrations to make your reception pandemic free.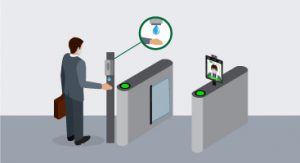 Automatic hand sanitizer makes EntryPoint VMS a COVID safe option. It is integrated with the VMS and access system. Makes all visitor entries hygienic and safe.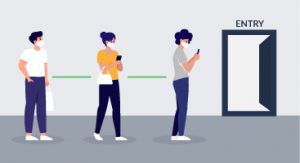 EntryPoint Visitor Management System enables social/physical distancing wherever needed with high throughput. Use it to monito and prevent overcrowding.
EntryPoint VMS - Hardware Integration
We manufacture our own access control hardware. Yes, we're all for "Make in India." Our visior software also easily integrates with any existing access system. This makes us uniquely placed to offer you whatever you need to secure your business premises and maximize operational efficiency.

EntryPoint visitor management system integrates with all types of access control system

RFID and QR code readers are useful integrations we do whenever required.

Our visitor system integrates with thermal cameras & CCTV to scan visitor mask & temperature.
Parking Management System

EntryPoint visitor management system can integrate with smart parking systems.
Facial Recognition & Biometrics

We provide facial recognition & biometrics as part of EntryPoint visitor management software.

Speed gates, turnstiles, boom barriers - our visitor software integrates with all access hardware.
Azure, AWS, & Google Cloud Integration
Outlook & Google Calender

Appointments are reflected in Microsoft Outlook and Google Calendar.

Integrates with Microsoft Azure Services & Active Directory for seamless Login and data synchronization.

Integrates with your favorite SSO platform and also supports custom federated logins.
We can now seamlessly manage the continuous inflow and outflow of our visitors, not to mention, medical representatives. All relevant visitor information is now available to us at a touch.
Indiabulls Finance Centre
Controlling and monitoring about 4000 daily visitors entering and exiting our premises wouldn't have been possible any other way. It's quite a feat. Kudos to team VersionX.
What is a visitor management system?
A visitor management system is a software that automates the management of visitors. It makes the entire process of a visitor's entry and exit smooth for the guests and secure for the hosts. Using an advanced visitor management software, you can authenticate, track, and monitor your visitors in real-time.  
VersionX's EntryPoint Visitor Management system is an advanced, feature-rich visitor software. Highly customizable, you can go for a QR code based system, face recognition, or visitor self-kiosk. You can manage multiple locations from a central dashboard.   
Why is a visitor management system better than a visitors' log book?
A visitor management system digitizes the entire process of guest registration. It takes just a few seconds to register a new guest and allows instant entry to repeat visitors. Unlike in visitor log books, visitor data is securely recorded in a visitor management system. You can also view visitor reports & analytics. 
How will a visitor management software benefit my staff & organization?
A visitor management software automates all visitor operations and helps organizations enhance their efficiency and security. The facility & security team can focus on their core work. Organisations improve their brand image by giving their visitors a smooth experience at the entry point. 
What types of businesses need a visitor management system?
All businesses & organizations need a visitor management system to ensure security and enhance efficiency. With a visitor software, you can completely automate the visitor entry and exit process from a central dashboard cross multiple locations, check real-time visitor activities, manage visitor access to different areas or buildings of your premises, and view visitor reports & analytics.
Can I use a visitor software in residential apartment?
Absolutely. A visitor management system is crucial for apartment security.  
Do I need to invest in hardware to use a visitor software?
No. All you need is a smartphone. Unless you want to integrate it with access control systems like doors, elevators, boom barriers and flap barriers.
Is a digital visitor management software a costly investment?
A subscriptions based visitor management software is quite economical. Also, look for a system that is customizable and suits your visitor processes.
Can my guests self-sign in with a visitor app?
Absolutely. That's an important benefit of a visitor management system.
In which locations do you have presence?
We operate pan India and have clients in major states and cities like Tamil Nadu, Delhi, Bangalore, Chennai, Hyderabad, Mumbai, Pune, Noida, Gurugram, Ghaziabad, etc.
Visitor management systems are software used by organizations to efficiently manage the entry and exit...