GPS Salesperson Tracking System
An easy-to-use people tracker. Track the live movements of your staff or salespeople on a tour. Use it as a personal tracking device for a loved one or a family on a trip or late night drop & pickup.
Why VersionX Live Salespeople Tracker?

With just a "start" & "stop" button, the people locator does not require any special training to use.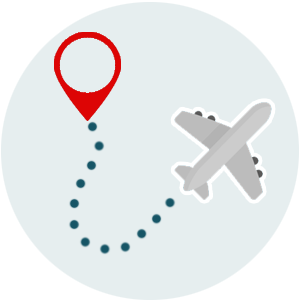 Our GPS people tracker is useful for any short or long distance, business or personal purpose movement or trip.

Get live details on the whereabouts of your employees or salespeople. It's a useful tracking device for kids on a trip.


View & stay updated with digital trails & halts of the person being tracked. View trip history.

Features of VersionX GPS Salespeople Tracker

VersionX's salesperson tracker tracks in & out time log at Geofences or pre-defined premises.

Track multiple teams & locations from a single dashboard.

Live tracking of ongoing sales meetings ensures transparency in negotiations.

A simple start & end button to track time & live location of a person using our person tracker.

Easily add routes, schedules, tasks, & team using our person tracker.

View client locations, past visits, service & transaction details. Plan future client visits.

Add or view comments & descriptions on halting points on the VersionX people tracker app.

The GPS people tracker also acts as an attendance monitoring system.

Track expenses incurred by a salesperson or team. Make informed decision based on the report.

See the salesperson's trip details & history of tracked data on our person tracker.

Get live work meeting updates like audio notes, videos, pictures, time, etc. 

Access performance metric of your sales team using our salesperson tracker.
What's a GPS people tracker?
A GPS people tracker is a GPS-technology-based application used to track any person's live movements - it could be your employees, salespeople, or loved ones on a trip.
Why should I track my salespersons?
It is not just about tracking salespersons. The tracker helps you manage the team efficiency. It also increases accountability of your sales team, thereby increasing their performance over time. 
Is VersionX people tracker a hardware or an application?
It is a mobile application.
How can I track my salesperson's location?
You can track your salesperson's location on the map in the GPS people tracker application.
Can I track someone with VersionX GPS people tracker without him or her knowing it?
Will the people tracker show me trip history?
Yes. You can check trip history of your employees or salespersons anytime.
In which locations do you have presence?
We operate pan India and have clients in major states and cities like Tamil Nadu, Delhi, Bangalore, Chennai, Hyderabad, Mumbai, Pune, Noida, Gurugram, Ghaziabad, etc.