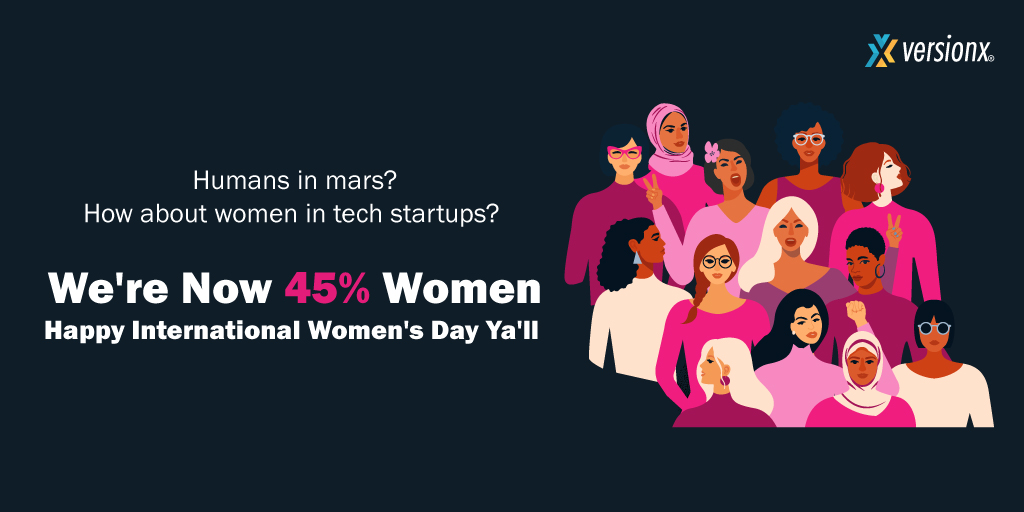 VersionX was a 10 member team when it started four years ago. And we had only one woman employee then, a software programmer. 
Fast forward to 2021, we are now 45% women across functions, including in top management, software developer, design, sales and marketing, and trainee. 40% of the women are software developers. 
Why, And How? 
There was no mandate for us to move towards gender balance and diversity. We're a 25-member team, not large enough to bother having a chief diversity officer to fill the gender gap. We have other pressing issues that most tech startups struggle with, like growth.
Priorities will be priorities. But in a few other areas, our intent was clear and focused. Irrespective of our size, we were determined to get a few things right. Our starting point - when we had just one woman in the team - set us up on the path to becoming a responsible team as we grew in size and scope. 
Top Leadership
The culture of a team, especially a startup, is determined by its top leaders and their stance. Our culture has been shaped by the leadership at VersionX that always pushed for a gender balanced team. 
A Conscious Decision
Achieving gender balance is easier said than done, except in a select few industries maybe, and requires a conscious effort. Especially in technology startups where gender stereotypes are widespread and gender representation is highly skewed - on an average less than 30% are women. Closing the gender gap over time in VersionX was a conscious decision made by those responsible for making hires. 
Informed Hiring 
Our hiring processes involved clear communication on gender and diversity awareness. We had issues that needed to be addressed. We also knew that these problems could not be resolved overnight, other critical challenges notwithstanding.
Stereotyping - Not Cool
We made gender stereotyping uncool. And refused to accept the industrywide perception about women not being able to cope or perform well in a fast-paced startup culture. Especially in a B2B technology startup like ours. With the right policies in place, we believed that we could make the workplace an enabler of personal and social growth and transformation rather than acting as a hindrance. 
Our experience in the past 4 years has been that - given the right policies and workplace environment, employee turnover is anything but a "gendered" issue.
Challenging Biases
It's not as if the team members didn't have their personal biases. But we challenged them and kept one another in check - a tremendous benefit of having a diverse team with opposing views, where everyone feels heard. Just how we created a culture of inclusion - one that encourages free expression of opinions and clear communication - helped the entire process.
Creating the Culture
A non-hierarchical team setup ensured that having leadership qualities didn't mean possessing a certain set of "gendered" attributes. Leadership and intrapreneurship meant each member of the team took complete responsibility and was accountable.  
Flexi Policies
A few flexi-policies - we always had these - have been helpful. While work-from-home became a thing worldwide in 2020 due to the pandemic, at VersionX, this benefit was always available to the team members on a need basis. Temporal flexibility has also always been a part of our work culture.  
Several studies have made strong business cases in support of gender inclusion and diversity. See McKinsey's May 2020 report here. But at VersionX, we didn't begin with a business case. We just wanted to do the right thing.
Still A Work In Progress
Much remains to be done though. 
We don't want to stop at 45% representation of women. As we steadily grow in size, staying gender balanced is going to be a challenge, and so is accomplishing diversity and inclusiveness. 
Larger teams bring with them a different set of issues. Creating the right policies, keeping our long-term mission in view, is going to be the key.      
We want more women representatives at the top. This would require creating the right environment and incentives for leadership of all types to flourish.
Having got the ball rolling, it's all a matter of smart execution now. And we're pretty pumped up.