Smart Key Management System
A digital system for physical key management - it records and tracks physical key used by multiple individuals and teams. A seamless and foolproof system - it makes key management safe and secure with zero waste of time.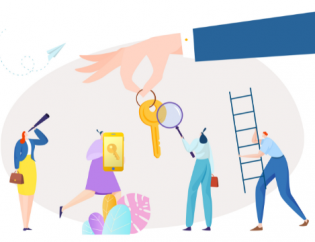 Smart Key Management Automated for Security & Operational Efficiency
No lost keys. No waste of time.
VersionX's smart key management solution provides businesses an efficient system of recording and tracking physical keys handling. You don't have to worry about key handovers - who took the key, date and time of  return, or whether it was returned.
With key management system, discard all paper registers, redundant sheets, or manual processes.
If the key is not returned, the person who took the key will be held responsible since the details are recorded in the system. Hence, the digital system is perfect for increasing individual and team accountability.
Key Management System - Top Features

Discard all paper & multiple sheets. The system records all key details. The physical keys management system records & tracks all keys.

Every time a key changes hands - taken or handed over - the system records its details such as key name, date & time of exchange, & name of staff.

Admin can monitor the entire key usage process. View all details in a central dashboard & easily identify discrepancies.

A simple mobile app records all key handovers. It lists the keys as per its state of use or non-use. Discard paper registers & multiple sheets.

Operators and admin can view the logs of keys, with details such as name of key, time and date of handing over, name of the person who took the key, and so on.

Every time a key is taken or handed over, the details are updated in real-time. The user or staff name is automatically recorded.
At A Glance - How It Works?

Benefits of VersionX Key Management System

Physical key management includes multiple people, teams, & processes. We digitize it and take care of every detail in the process with no manual intervention.

Key details are always updated, with every key handover. The system instantly captures and records user or staff names. This ensures that keys & time are never lost in the process.

The key management system is foolproof. Since it records every detail, it increases individual and team accountability.
What is a physical key management system?
Key management system is a digital solution for distributing, controlling, and tracking physical keys within an organization. The system enhances efficiency, security, and accountability for keys in various environments, such as offices, hotels, and facilities.
What is the benefit of smart key management system?
Physical key management includes multiple people, teams, & processes. A manual method of managing physical keys is highly inefficient and time-consuming.
A smart key management system makes the management of physical keys highly efficient since every detail is recorded and tracked automatically. It enhances security and accountability for keys.
Do I track the physical keys using an app?
Both app and dashboard are available for recording and viewing the details of the physical keys in real-time. The system automatically records and tracks each key and its handover details. Get rid of paper registers and multiple sheets once and for all.
How does VersionX key management system work?
Key management typically involves assigning keys to authorized individuals, maintaining records of key usage, and implementing security measures to prevent unauthorized access.
VersionX smart key management system digitizes the entire process from storing and recording key info to handover details.
Admin can view logs of all keys taken and handed over, with date, time, and other details.
What happens if a key is lost?
The chances of a key getting lost are low since the system makes everyone accountable for the key that he or she takes.
The system records every key and staff details, Therefore, the key and the person who took  it can be tracked.
In which locations do you have presence?
We operate pan India and have clients in major states and cities like Tamil Nadu, Delhi, Bangalore, Chennai, Hyderabad, Mumbai, Pune, Noida, Gurugram, Ghaziabad, etc.